Best Pill Dispenser for Seniors
Do you have trouble taking your medication as prescribed? Do you provide care for someone who does?
If so, a simple or automatic pill dispenser might be the best option.
Dispensers that help seniors with complex medication regimens organize and manage their medications can have a significant positive impact on their wellbeing.
Elderly people frequently need to take many dosages of numerous medicines each day.
More than one-third of Americans over the age of 55 who participated in a Consumer Reports poll were taking five or more prescription drugs, and some of them consistently took more than 10.
It might be very difficult to maintain such a regimen. Pill dispensers can help with that.
You may learn about the various kinds of pill dispensers that are offered by reading the information below.
Along with the considerations you should make before making a purchase.
You'll also learn more about eight of the top gadgets, ranging from simple organizers to completely automated systems, that you might want to take into account.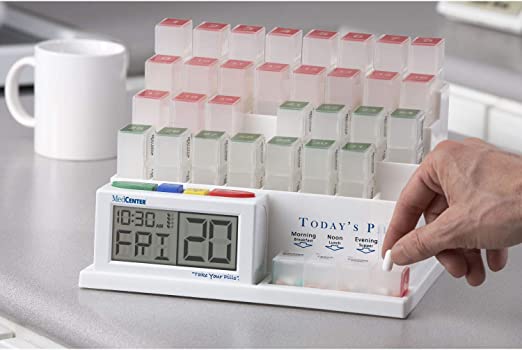 Additionally, you will learn how a pharmacist can help you or a loved one organize their prescriptions.
The significance of effective medicine administration
Pill dispenser types
What to take into account while selecting a pill dispenser
8 of the top pill organizers and dispensers
How a pharmacist can assist with medication organization
The Value of Effective Medication Management
To treat acute disorders, control chronic conditions, and preserve general health, it is essential to take all drugs exactly as directed.
A Today's Geriatric Medicine article, however, revealed that about half of all prescription medications are not used as directed.
Additionally, up to 30% of prescriptions are never really filled.
For a variety of reasons, seniors neglect to take their medications as prescribed:
They think the regimen is too difficult or burdensome.
They quit taking the prescription because they don't fully get why it's necessary.
They have trouble recalling if or when they last took their medications.
The pill bottles are too challenging for them to open.
They are unable to read medicine labels or comprehend the instructions.
They neglect to timely renew their medications.
The finest of intentions can occasionally be sidetracked by external factors.
One older woman mentioned in a survey that she once knocked over many open pill bottles and wasn't sure which tablets originated from which bottles, so she decided not to take any.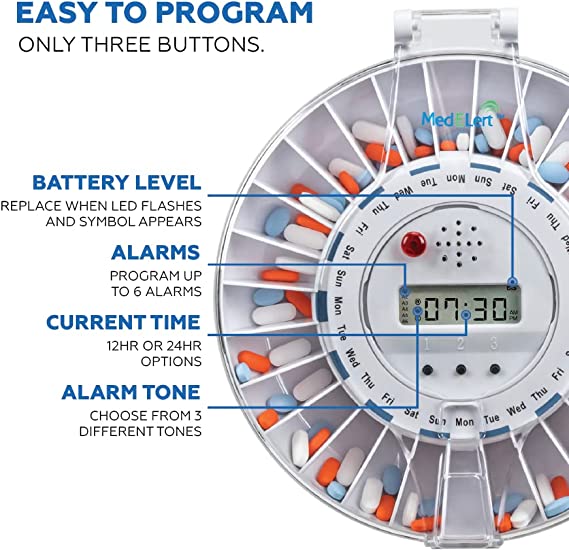 But failing to take the right medications at the right times and in the proper doses might have detrimental effects on your health.
Your risk of needing emergency medical care can increase if you take too much or too little medication.
In fact, according to the study in Today's Geriatric Medicine.
Almost 125,000 people lose their lives annually as a result of not taking their medications as prescribed.
Utilizing pill dispensers might make handling prescriptions much simpler.
Pill Dispensers: Types
There are numerous choices available for pill dispensers. These are the fundamental types:
Pill organizers: These are typically plastic containers that include sections for each day of the week. Some of them contain sections for different times during the day, like morning, noon, evening, and night. A straightforward one-week model or a monthly pill organizer are both options. A simple pill organizer can be an easy, affordable option for senior people who are adept at remembering to take their medications but need assistance keeping track of amounts.
Similar to basic pill organizers, alarm-equipped pill boxes allow seniors or their caregivers to program visual or auditory reminders to take their pills. Alarms can typically be set to sound up to four or six times per day. Depending on the model, the alarm may be a fixed component or it may be incorporated with the organizer.
Automated pill dispensers: These provide the most technologically advanced method of managing drugs and reducing mistakes. A secured system that is digitally designed to alert the user and release precisely the right amount of medication at precisely the right moments is known as an automatic pill dispenser. More sophisticated models work similarly to medical alert systems: If a dose is missed, a text, phone call, or other notification is sent to the patient or caregiver.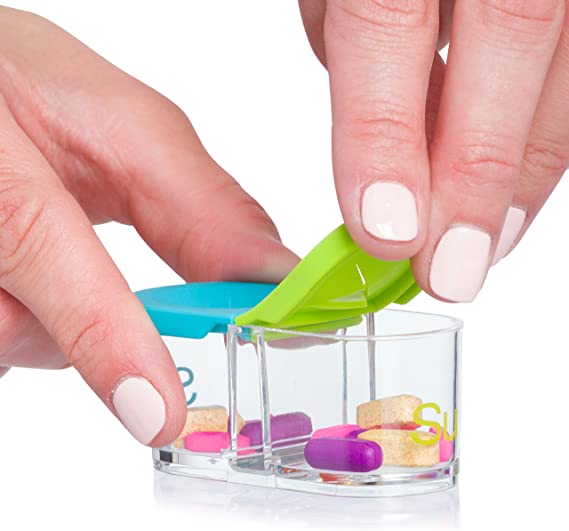 For storing, dispensing, and tracking pharmaceuticals, a rising number of pharmacies are using enterprise-grade automated medication dispensing systems, which are essentially computerized vending machines.
Pyxis MedStation and Omnicell Automated Dispensing Cabinets are two typical examples.
The equipment secures the medications inside, and sophisticated software counts and tracks every item that is dispersed.
According to some professionals, automated dispensing devices increase patient safety by lowering drug errors.
What to Take Into Account When Selecting a Pill Dispenser
Price is unquestionably a significant consideration when choosing a device.
(While Medicaid does in some states pay for medication management services, Medicare does not pay for pill dispensers.)
Cost alone, though, is not everything to consider. When contrasting several models, keep the following in mind: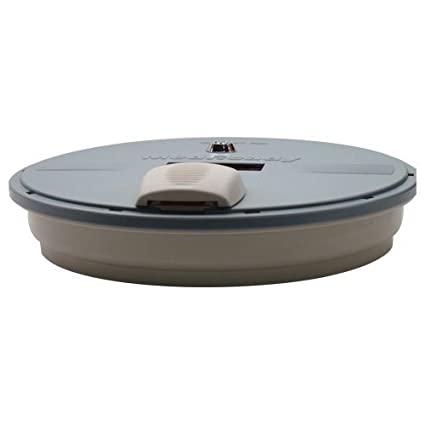 Easy of use
How easy is the pill loading process?
How simple is it to set the alarm and set the time on an electronic pill dispenser?
Is the display on the clock large and legible?
Are all of the buttons easy to use and well labeled?
How are the pills administered in reality? Does the user need to turn the dispenser upside down, click a button, or open a lid?
Capacity
How much medication can the dispenser hold at once?
Can it hold larger tablets or pills?
Can it withstand many dosages each day?
Alarms
Are there any visible signals, such as flashing lights, or auditory clues, such as voices or beeps, used by the alarms?
Can you make an alarm with a recognizable voice on record?
Will the person be sufficiently startled by the warnings to pay attention, though?
Are there various volume options?
Can you turn off the alarms?
Locks
Is it possible to lock the dispenser to stop someone from taking too many pills or at the wrong time?
How simple is it to unlock the locked medicine cabinet? (Trying can be tempting for addicts and individuals with cognitive limitations.)
Connectivity
When a dose is about to expire or is missed, may the device notify the patient or a caregiver?
Does it need an Internet or phone connection?
What is the cost of this service each month?
Do I need a contract?
Portability
Is the medicine dispenser intended to be carried or to sit on a counter?
What is its weight?
Can it be brought on excursions, errands, or outings?
The 8 Best Pill Organizers and Dispensers
You will probably find something on this list that works for you.
Whether you're looking for a basic organizer or an automatic pill dispenser with a lock and remote monitoring capability.
1. Sagely Smart Weekly Pill Organizer, for starters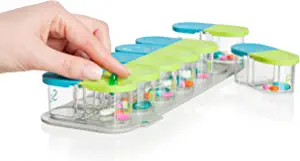 For seniors whose medicine regimen involves numerous big pills, such as vitamins or fish oil capsules, this may be the ideal pill organizer.
Its seven containers, which have two extra-large, color-coded compartments apiece, can hold two weeks' worth of medication or morning and afternoon doses.
The containers can be lifted out and carried on errands as necessary, yet they are magnetized to a tray for stability.
Additionally, the rubberized lids are flexible enough for seniors with limited dexterity to open without difficulty and contain perforated holes for easy loading.
There is no actual alarm on this calendar.
The user can connect to the free Sagely app, which can be configured to send notifications when it's time to take a dose, if they have a smartphone.
2. Monthly Pill Organizer by MedCenter System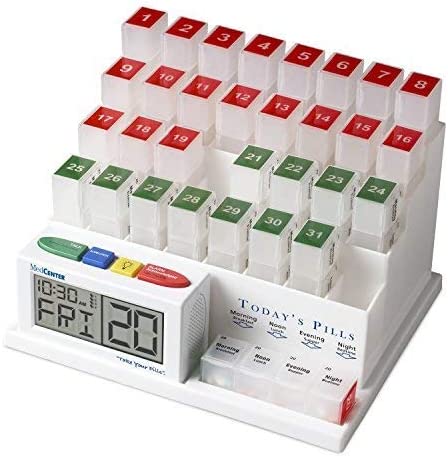 Here is a pillbox caddy system that can organize a month's worth of medication and has an alert.
It consists of 31 separate pillboxes, each with four sections that can accommodate around 16 aspirin-sized pills.
Each box has a label on one end that is red and another that is green.
For simple tracking, arrange them with the green end facing up while they are full and the red end facing up when they are empty.
The talking alarm clock offers two volume settings, a sizable display, and the option to employ a voice reminder or a beeping sound.
The user hits the big red button to make sure they've finished their medication and to silence the alarm afterward.
Even if it's a touch large, the alarm is removable, so the user may conceivably bring it along with the proper pillboxes for a weekend excursion.
The MedCenter System is easy to use, but it takes a long time to load. It takes a lot of time to open 124 different compartments and fill them.
The counter space needed for this device is likewise considerable.
3. MedELert Automated Medicine Dispenser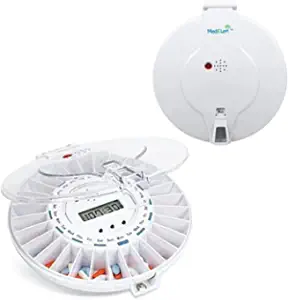 This automatic pill dispenser is a circular disc with 28 individual holes that can hold up to 18 aspirin-like pills apiece.
You can adjust the scheduling by using the six different dose rings that are included (i.e., from one dose a day up to six doses a day).
You have the option of having the alarm sound an audible beep, flash a light, or do both.
The user flips the dispenser on its side and pours the tablets into his or her palm when the alarm goes off, which also shuts off the light and the sound.
It's a good, affordable automatic pill dispenser for people with Alzheimer's disease or memory problems.
Because it can be secured to prevent someone from unintentionally overmedicating.
It even gives users the option of a translucent or solid cover, accommodating those who prefer to see what's inside or become irritated by viewing too many pills at once.
4. The MedReady 1700 Medication Dispenser.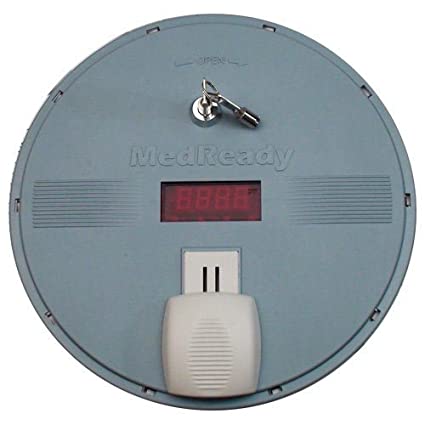 Another automated round disc with 28 pharmaceutical holes is the MedReady pill dispenser.
The audio alarm may be set for up to four times per day, and the lid can be locked.
It also comes with two keys, so a family member and a nurse might each have one.
Although this device's slots can contain around half as much as the MedELert's, the MedELert can only be powered by batteries.
This dispenser is strong, tamper-proof, and simple to fill.
You can purchase an extra tray that is pre-filled with medication and can be quickly swapped out for the dispenser's empty tray for an additional cost.
5. MedMinder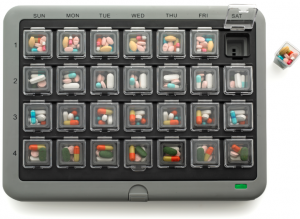 A MedMinder is an incredibly user-friendly automated pill dispenser.
With a rectangular tray and 28 different compartments, it has a similar appearance to a typical pill organizer.
The relevant container lights up to signal it should be opened at the predetermined time and the alarm goes off.
Only the proper compartment may be accessed at the designated time since the compartments are locked shut.
To serve as the alarm, a personalized message in a friendly voice can be recorded.
A phone call reminder may be made if the person forgets to remove the medication from the tray.
If a medication is missed, caregivers may also be contacted via phone, email, or text message.
A subscription-based service is MedMinder (with no contract).
The device has a built-in cellular modem that connects it to MedMinder's main monitoring facility.
This enables the caregiver to schedule the dosage timings, create the chosen reminders, and keep an eye on dose activities remotely.
There is no requirement for a phone connection, computer, or Internet connectivity; all that is needed is for the user to plug the gadget in.
Filling up is a simple procedure. All of the compartments can be loaded simultaneously by lifting the main lid.
A mail-order pharmacy service is also provided by MedMinder.
For the price of a copay, the patient can get a tray that is already filled with the necessary medications and is ready to be inserted into the machine.
6. Hero Medication Dispenser Automatic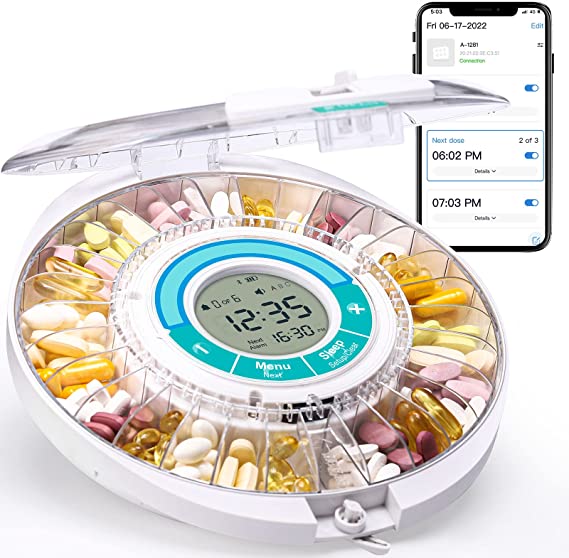 This counter-top, timed, secured pill dispenser has a strong resemblance to a coffee or soda fountain.
To enter and maintain your prescription regimen, you (or a loved one) must first create an online account and connect it to a Wi-Fi network when you first plug it in.
You can also include carers, who will be notified when medicines are finished or missed.
You don't need to separate the medications into individual doses because Hero can hold up to 10 different prescriptions.
As soon as the display panel instructs you to, place the Hero container containing each type of medication into the machine.
The gadget beeps and lights a button to indicate when it's time to take medicines.
Hero delivers all of the necessary tablets into a cup once the user merely hits a button.
The user and any carers may get text reminders on their phones if the cup is not taken out of the machine within 15 minutes.
When supplies are running low, both the app and the display screen will issue a warning.
Your meds will automatically be delivered to your door as needed if you use Hero's mail-order refill service.
When you need assistance using the dispenser, you may also get 24/7 support.
7. Livi Smart Pill Dispenser
It can store up to 15 different medications for a 90-day supply and, if necessary, disperse tablets every hour.
The Livi is often regarded as the greatest automatic pill dispenser for senior individuals with complicated prescription regimens because of this.
If users plan to spend a significant amount of time away from home, it can even dispense customized travel packets.
Like the Hero, Livi is made to sit on a counter and has a similar appearance to a kitchen equipment.
Each type of medication needs to be poured into a different container before being loaded into the device.
The button flashes green and the device beeps when a dose is prepared.
The right tablets silently and quickly drop into the tray when the user hits the button.
Livi is not Wi-Fi dependent like the Hero is. Instead, it uses an AT&T cellular connection for its remote management and notification features.
When it's time for medication, users and caregivers can receive emails or text messages, and caregivers can also receive alerts when the medication compartment.
Which locks with a key, is unexpectedly opened.
8. MedaCube
A MedaCube automatic pill dispenser has the appearance of being at home in a home office.
It can keep up to 16 different drugs in storage for 90 days (though by default it only comes with 12 pill bins).
The bins make bulk loading quick and simple, and 20 dosages can be planned for a given day.
If your pharmacy's pill bottles have QR codes, you can even scan the codes using MedaCube's barcode reader to have the machine upload the dosage information for you.
When it's time to take your medication, the device will warn you visually and audibly.
Users can receive call reminders and caregivers can record customized voice prompts.
When the right pills are ready, the user touches the screen, and a drawer containing them opens.
In addition to being able to access an exhaustive online record of patient behavior, caregivers are notified electronically when doses are missed and supplies are running short.
Additionally, if the device is dropped, tilted, or otherwise interfered with, an immediate notice is sent to caretakers and it automatically locks down.
MedaCube can be used on a Wi-Fi network or with cellular coverage for an additional monthly cost.
How a Pharmacist Can Help with Medication Organization
Older folks who require a little additional help to adhere to their prescription regimens can benefit greatly from the aid of pharmacists.
To ensure that the pharmacist has a complete understanding of everything you're taking and can give you advice on how to manage your prescriptions.
It is advisable to purchase all of your medications from the same pharmacy.
On request, many pharmacists will arrange your medications in pill boxes or organizers.
Also available are convenient blister packs, which contain each dose in a plastic bubble with a foil coating.
This allows you to see which tablets you've previously taken and how many more there are to go.
If you require large print labels or easy-open containers for your meds, pharmacists are typically pleased to accommodate your request.
So let your pharmacist know if you have problems opening prescription bottles or reading the text on them.
Additionally, pharmacies frequently provide automated refills and will contact or text you when your medicines are prepared (some will even deliver them to you).
You could also benefit from mail-order services like those provided by MedMinder and Hero for increased convenience.
That makes it more likely that you won't run out of essential medications.
Your Medication Management
You now know that while looking for a pill dispenser, it's important to take convenience of use, capacity, security, and connectivity into account.
The right dispensing device can significantly ease the daily routine for seniors who must take a number of pills at various times throughout the day.
Read More About Anxiety And Treatment Tips For Panic Attacks.
Read More About: Is Medical Marijuana and Nectar Collectors Beneficial to Seniors?
CLICK ON THE MYSTERY BOX

BELOW TO DISCOVER
THE BEST WAY TO HAVE

HEALTHY SLEEP

WITH

DREAMS